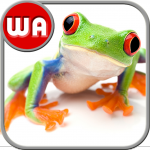 Whopping Frogs was the to get the major update. New update features naturally almost completely new videos, but also significant improvements, like:
Video does not pause, when You tap the screen
Videos / photos cannot be zoomed
App does not run in the background, making it now more stable and resource saving
And finally: possibility to buy ads away with integrated IAP. Buying ads away also unlocks three extra videos!
The "snake attack" video appears to be a bit too scary for my middle beta toddler. So based on feedback, I could do a switch, which turns that video on/off.
Whopping Forgs is available for free on the App Store. Get it here: DOWNLOAD!
Category : News